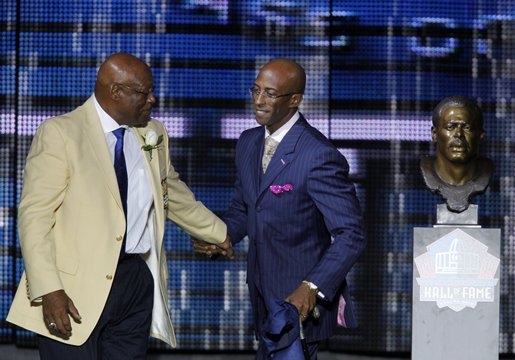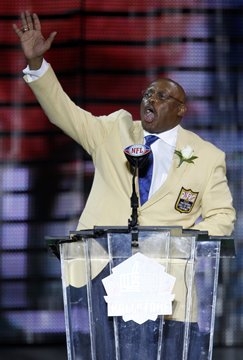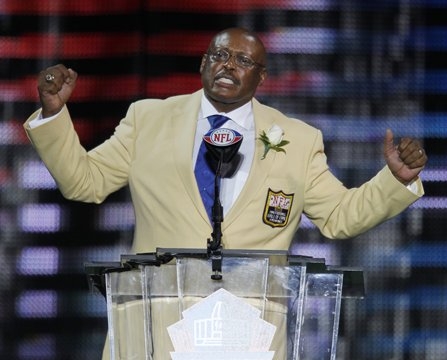 Images Courtesy of Associated Press

FINALLY!
Floyd Little's moment comes at last as he joins Pro Football's Hall of Fame!

The wait is finally over! Floyd Little's pro football journey ended in Canton, Ohio this past weekend, joining the elite fraternity of Pro Football's Hall of Fame. From donning his Gold Jacket on Friday night, to being presented for induction by his son, Mark, on Saturday, Mr. Little is now part of football imortality with his bust resting in Canton for generations of football fans to admire. From his days playing high school football in Connecticut, to his All-American days at Syracuse and finally his tenure with the Denver Broncos, his final stop is Canton to be among the best to ever play the game. Congratulations for an honor well-overdue and finally being recognized as one of the finest to play on the gridiron.
Click here to see pictures from Floyd's Hall of Fame weekend!

Click here to see Floyd's Enshrinement speech!

*****
This website was originally designed for the sole purpose of trying to get Little, among other Broncos, into the Pro Football Hall of Fame while giving fans the chance to voice why they thought he was among the greatest to ever play the game. With the acknowledgement of an era when Denver needed asports superstar, Little was it. Long before the likes of John Elway and Terrell Davis ruled the Mile High city, Little's play on the field spoke for itself and it would be 30 long years before Little would get the recognition from Canton he so longly had deserved. Now with this site, you can browse around and enjoy reliving the career of NFL's newest Hall of Fame inductee, seeing pictures, memorabilia and much, much more!!!


READ FLOYD'S MESSAGE TO YOU, THE FANS BY CLICKING HERE!
Last Updated: February 7, 2011